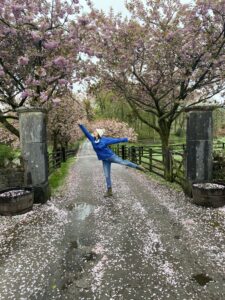 My Pilates journey began after a car accident (2004) whilst pregnant with my second child. It left me in constant discomfort and often acute pain. Traditional medicine was useful, however, I realised I was going to need to find some longer term solutions for my body.
I moved to Santa Cruz, California in 2005 with my young family and it was here I started my training.
After two Comprehensive Pilates Teacher Training courses (PoleStar & a Classical program ) and then qualifying in Gyrotonic(R) & Gyrokiesis(R). I'd finally managed to find a place where I was no longer in constant discomfort. It took a lot of work and I learned so much about anatomy, pain and movement. 
Whilst in Santa Cruz, I started studying Fletcher Pilates. It was this part of my training that really transformed me into the Teacher I am today. I completed Fletcher training in the UK and was on their Faculty team from 2015-2022. During this time I taught the Fletcher Comprehensive Pilates program, Fletcher Intensive and one day courses to qualified Pilates teachers and students of the work. 
I closed my studio in Berkhamsted, Hertfordshire in 2021 after the Pandemic and have relocated to Gozo, an Island next to Malta in the Mediterranean. I continue to work with teachers at their studios throughout Europe, see clients online and in person for Pilates. Along with Pilates and Yoga I also offer nutritional counselling & am a Licensed Menopause Expert. Right now I am exploring the the possibility of a degree in Podiatry and teaching Pilates in some unique spaces!