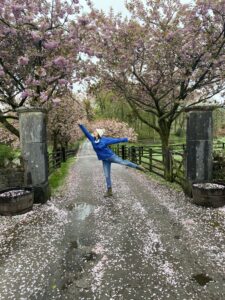 My Pilates journey began after a car accident (2004) whilst pregnant with my second child. It left me in constant discomfort and often acute pain. Traditional medicine was useful, however, I realised I was going to need to find some longer term solutions for my body.
I moved to Santa Cruz, California in 2005 with my young family and it was here I started my training.
After two Comprehensive Pilates Teacher Training courses (PoleStar & a Classical program ) and then qualifying in Gyrotonic(R) & Gyrokiesis(R). I'd finally managed to find a place where I was no longer in constant discomfort. It took a lot of work and I learned so much about anatomy, pain and movement. 
Whilst in Santa Cruz, I started studying Fletcher Pilates. It was this part of my training that really transformed me into the Teacher I am today. I completed Fletcher training in the UK and have been on their Faculty team since 2015. 
During the lockdown of 2019 I started training as a Yoga teacher (Scaravelli) this was and still is, a huge shift from what I had been teaching. As my body and mind changes and grows I know that the movement I teach reflects that process. I look forward to what's next.